The topography of many of the landscape paintings and drawings, which Van Gogh made in the countryside of Arles, can no longer be established with any certainty. Since his time, much of the region where he worked has been further cultivated, while orchards and wheat fields have disappeared, as well as farmhouses and other elements of Van Gogh's images. In several cases, however, where and what he painted is well known.
 
Located just over two kilometres to the south of Arles, the Pont de Réginelle (or Réginal), commonly known as the Pont de Langlois after the former bridge-keeper, was a particularly favourite subject for Van Gogh during March-May 1888. It features in several paintings and drawings. With its elegant shape and slender structure, the Pont de Langlois was eminently suitable for the harmonious Japanese atmosphere, which Van Gogh sought to express in his work. The bridge has since been destroyed, but then replaced by a similar construction.
 
The building of the medieval abbey of Montmajour took several centuries on a 43-metre high hill, five to six kilometres to the northeast of Arles. It was famous and even recommended to tourists in the Baedeker guide to the South of France as being out of the way, but worth the trip.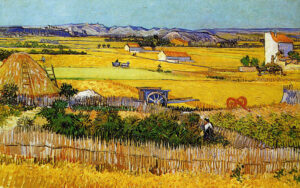 Van Gogh, who never minded a long walk, discovered it soon after his arrival. Although usually not enthused by ancient monuments, he was captivated by these ruins set in the middle of a large plain and surrounded by an impressive landscape.
 
In the second week of May 1888, the abbey and its environs became the subject of a set of seven drawings, known as the "Montmajour series". These middle-size drawings were followed by a second Montmajour series in July. On that occasion, Van Gogh worked on larger sheets and created six drawings, which are real highlights in his oeuvre.
 
Montmajour overlooks the large plains of La Crau, which can be seen in two of these six drawings. La Crau also became a major inspiration for Van Gogh. In his famous "Harvest", made as a painting and also three drawings, he depicted the harvesting of wheat, while adding a very visible blue cart as the focal point of the works. One of the last paintings he made around Arles was "La Crau with Peach Trees in Blossom".