During his career as an artist, Van Gogh lived in several cities – The Hague, Antwerp, Paris, Arles – and in all of them he found subjects for his work. Except for some drawings of Antwerp, he always showed a remarkable lack of interest in cities' old monuments. Van Gogh sought his inspiration mainly in everyday life and relics from the past did not hold much interest for him.
 
Arles proved to be no different. With the exception of the sarcophagi of the Alyscamps and the courtyard of the hospital where he was treated after his breakdowns, no ancient monuments feature in Van Gogh's work. He painted ordinary subjects such as a viaduct beneath the railway, and bridges, most notably the iron structure of the former Trinquetaille bridge. The banks of the river Rhône within the city found their way into his work, as did the Canal Roubine du Roi, just northeast of the town. Van Gogh had an unusual talent when it came to transforming such simple themes into original and captivating compositions.
 
He admired the serene qualities of parks and gardens, and painted both in Arles. The public garden next to the Roman Theatre greatly appealed to him and was the subject of four paintings, which he called "The Poet's Garden".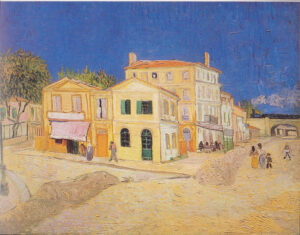 Several of his cityscapes became true icons in his oeuvre. The small house on Place Lamartine, in which he lived (no longer exists), is the central feature of the painting commonly known as "The Yellow House", but which Van Gogh called The Street. A remarkable scene was painted at night: Van Gogh set up his easel near the Café de la Nuit on the Place du Forum and painted the café, bathing in yellow light, against a starry sky.
 
During Gauguin's stay in Arles, the two artists made several paintings of the Alyscamps on the south eastern edge of the old town. All of them are very atmospheric autumn scenes, as is appropriate for this ancient necropolis.
 
During his second stay in the hospital of Arles, the 16th-17th century Hôtel-Dieu, Van Gogh made a painting and a drawing of its beautiful courtyard, recording his surroundings during this difficult stage of his life.
 
A view of Arles is included among many other paintings and drawings, such as "Field with Flowers near Arles", in which irises in the foreground dominate the image. In these works, the town functions as a backdrop to the landscape.