THE CONFERENCE IS CANCELLED (both dates)
Talks by Jean-François Chevrier
in collaboration with the École nationale supérieure de la photographie ENSP
► First part: Tuesday 17 March at 6.30pm (at the Fondation)
► Second part: Wednesday 18 March at 6.30pm (at the ENSP)
« Tatline at work »
The photographic image between technical culture and critique of work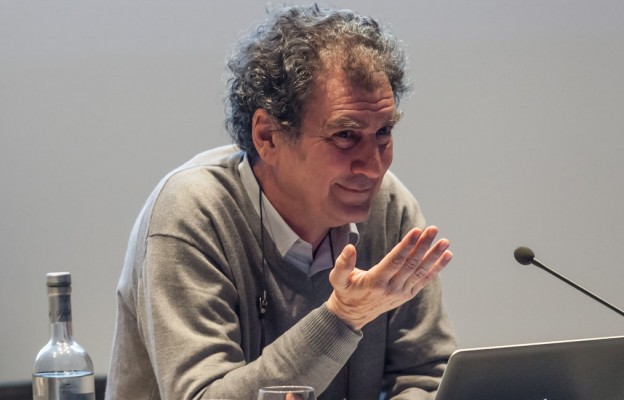 All "art" is a technical activity. Art and technique can be synonymous even today. Whatever the options, the history of art associates works of art with techniques. The importance assumed in the twentieth century by the idea of construction, encapsulated in the notion of Constructivism (Tatlin), reinforced this relationship. Is this still true today? In this talk, we shall concentrate on some of the effects of photography in the history of images and, more particularly, in the history of images (representations) of work, including of technical objects (tools or instruments).
Photography (as a "process", as it was called in the nineteenth century) has intervened at the crossroads between the fine arts and the media, but also, as we shall see from a few examples, between technical culture and poetry. Technical culture is the culture (the practical knowledge) of tools and, by extension, of instruments and machines. The camera, too, is an instrument which can in some ways can be likened to a tool and a machine. In this case, where does poetry fit in?
Man Ray, illustrating Lautréamont, pictured "the chance meeting on a dissecting table of a sewing machine and an umbrella". This tribute to the disparate and the incongruous sanctioned the vigour of poetic arbitrariness, distinct from technical, utilitarian reason. But one of the three objects combined by Lautréamont, the sewing machine, gave rise to a complex imagery that was part of a critique of work and of gender at work (sewing as a female activity). It is not a question of the arbitrariness of poetic fantasy versus some kind of instrumental rationality. We will see how photographic artists have set to work with the image and in the image, by interpreting the imaginary component of the technical equipment.
Biography of the speaker
Historian and art critic Jean-François Chevrier taught at the École nationale supérieure des beaux-arts in Paris from 1988 to 2019. An independent curator since 1987, he has followed the work of very diverse artists and has published numerous essays and books on modern and contemporary art, including photography.
His recent publications and exhibitions include: Jeff Wall (Hazan, 2013); Formes biographiques (Museo Reina Sofía, Madrid, 2013, and Carré d'art, Nîmes, 2015; cat. Hazan); Agir, contempler (Musée Unterlinden, Colmar, 2016; cat. Artlys); De Bâle. Herzog & de Meuron (Birkhäuser, 2016); Œuvre et activité. La question de l'art (L'Arachnéen, 2015); Bernard Réquichot. Zones sensibles (Flammarion, 2019).