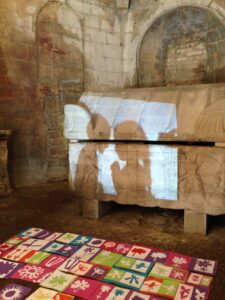 The Fondation Vincent van Gogh Arles extends its activities beyond its own walls by offering workshops at schools. These hands-on workshops run over several months with the aim of exploring artistic ideas and techniques in depth with students. Each class designs a project that bears a direct relation to the exhibitions currently on show at the Fondation.
Projects are supervised by an artist or by specialist artisans and necessitate the active involvement of the students, who are placed at the heart of the creative process and thereby develop their inventiveness and autonomy.
The goal of these workshops is to introduce students to contemporary artistic practices and to hone the ways in which they look at contemporary art. A variety of tools are thereby placed at the disposal of students and teachers. The workshops conclude with a public presentation of the works created.