Van Gogh is generally perceived as being one of the finest draughtsmen of the impressionist and post-impressionist era. While many of his earliest drawings were rather clumsy, he went back to work again and again so as to master this craft. For the first three years of his career, he worked mainly as a draughtsman. A good command of drawing was traditionally considered to be an essential basis for painting, and Van Gogh cherished that principle.
 
As a result, he became an excellent draughtsman long before his paintings started to show real promise. When he worked in Paris from early 1886 to early 1888, where he developed a very personal modern style, he concentrated on painting, not on drawing.
 
Van Gogh made drawings using various techniques, such as works in pencil, black chalk and other dark materials, as well as drawings in watercolour. His most outstanding talent, however, was with the pen. His virtuoso command of such a tool came to a head in Arles when he discovered a type of reed that he could cut and turn into a pen. This reed pen enabled him to make drawings with a remarkable range of lines, coils and dots, which are extremely lively, yet always controlled.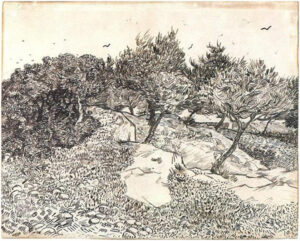 His first drawings in Arles date from March 1888. Japan was always on Van Gogh's mind in that period, and these early drawings are the approximate size of the Japanese prints that he collected. The great draughtsmanship of Japanese artists was an example for him: 'The Japanese draws quickly, very quickly, like a flash of lightning, because his nerves are finer, his feeling simpler.'* Van Gogh must have seen Japanese brush drawings while he was living in Paris, and some of his drawings stylistically resemble these works. He also made several watercolours with broad, flat areas of colour, which were inspired by Japanese woodblock prints.
 
Van Gogh produced several figure and portrait drawings, including a young Zouave and the postman Joseph Roulin. Landscapes, however, dominate by far. At Montmajour, overlooking the great plain of La Crau, he made two series of landscape drawings with his reed pen. The first one consists of smaller sheets, while for the second series he used large, whole sheets. The so-called second Montmajour series is an astonishing achievement, some drawings show a just how he had now mastered the Japanese technique, while others are even more refined. La Crau was also the location where Van Gogh studied harvesting, the subject of many paintings and drawings from the summer of 1888.
 
There is a strong relationship between Van Gogh's drawings and his paintings. Sometimes a drawing acted as a model for a painting, at other times he would make drawings after paintings. Three series of "drawings after paintings" were sent to his friends John Russell and Emile Bernard, and to his brother Theo.