During his Dutch years, Van Gogh worked in dark tones and grey colours, applying his paint with a heavy, expressive brushstroke. He studied the theories of colour, as used by Eugène Delacroix and learned about contrasts, but with his sombre palette failed to make them work.
 
After his move to Paris in early 1886, he realized where he had gone wrong. With his new command of bright and strong colours, he was now able to work both in subtle contrasts (such as yellow and green), and with the strongest colour contrasts possible. That last one is a complementary contrast: red against green, blue against orange, or yellow against purple. At the same time, he experimented with the lively brushstroke of the impressionists, as well the different styles and techniques used by his avant-garde friends. He came to admire Adolphe Monticelli, who painted in strong colour contrasts with a heavy impasto. Japanese prints taught him how to work with large areas of bright colour.
 
Thus armed with a vast new array of possibilities, Van Gogh came to Arles to further develop his modern style. The bright light of Provence led him to even more daring colour adventures, with Delacroix as his guide. Complementary contrasts enabled him to make his colours even more expressive. The Sower of June 1888 was an ambitious attempt to make a modern figure piece by means of colour. Van Gogh used the complementary contrast of a purple field and a yellow sky, and then painted yellow lines around the field, and purple lines around the sky.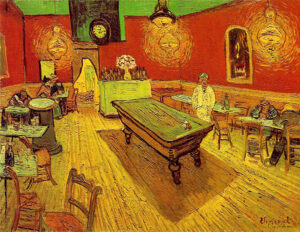 His use of red and green in The Night Café in September was quite exceptional. They dominate the painting, and Van Gogh explained: 'I've tried to express the terrible human passions with the red and the green.'*
 
Amongst his fellow avant-garde artists, Van Gogh stands out because of his forceful impasto. Artists like Gauguin, Bernard and other painters working in Pont-Aven, worked with prominent areas of colour, too, but they preferred to use a subdued, flat brushstroke. Van Gogh's work from Arles is the opposite. In most of his best works a prominent role is given to the handling of the paint. He sometimes used a more structured pattern of brushstrokes, such as in the background of his Still life with Sunflowers. In other works he applied the paint in a more spontaneous, lively yet always controlled manner. In all cases, colour and brushstroke merged together to create Van Gogh's uniquely expressive style.
 
* Original French: "J'ai cherché à exprimer avec le rouge et le vert les terribles passions humaines."