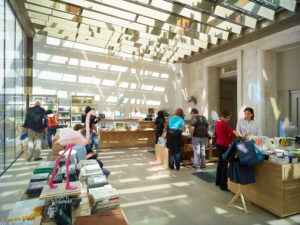 A unique place beneath the stunning glazed rooftop installation by Raphaël Hefti, in the city centre.
The Fondation shop with its rooftop installation by Raphael Hefti forges a colourful link between the old and the new. Alongside exhibition catalogues, art books, limited-edition prints, fine-art reproductions and handcrafted products, it also includes a selection of items for children.
Bookshop of the Fondation
35 ter, rue du Docteur Fanton
13200 Arles   
T +33 (0)4 88 65 82 86
Until 17 September 2017:
Every day from 11am to 7pm. Last admissions 45 minutes before closing, i.e. 6.15pm.
shop@fvvga.org
www.eshop-fvvga.com