From 20 September 2014 to 17 May 2015, the Fondation Vincent van Gogh Arles held two new exhibtions – Yan Pei-Ming's "Night of Colours" and Bertrand Lavier's "L'affaire tournesols" [The tournesols/sunflowers affair] – with Vincent van Gogh's painting Self-portrait with Pipe and Straw Hat, 1887.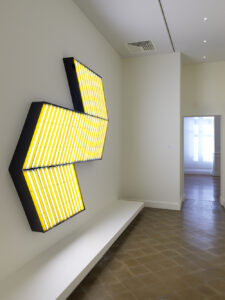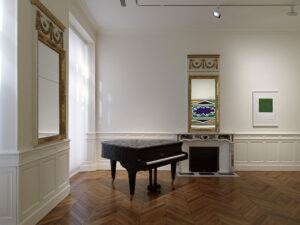 L'affaire tournesols
The artist professes with a smile that the present exhibition features his "entire painted oeuvre". It is a statement undoubtedly not far from the truth, for the show spotlights the theme of "painting" that is common to all Lavier's chantiers and which finds expression here in a variety of media: film, sculpture, picture and painted mirror.
Given the show's setting in a suite of former apartment rooms dating from the 19th century, Bertrand Lavier has conceived a contrasting overture in which a piano—the ultimate symbol of middle-class western culture—painted with his "touch" stands opposite one of his Ndebele  pictures, which makes reference to the colourful geometric style of wall painting practised by the eponymous South African tribe.
Through Lavier, paintings that previously only existed inside strip cartoons become real works of art under the title of Walt Disney Productions . What Mickey and Minnie once examined in a modern art museum is now exhibited by Lavier in the next room of our exhibition.
It was never a matter of chance but only a matter of time before an original by Van Gogh would be exhibited alongside a Lavier. That day has come. The Self-Portrait with Pipe and Straw Hat, 1887, is presented opposite the mirror painted by Lavier with the "Van Gogh touch". Yes, this self-portrait by Van Gogh, executed with the aid of a mirror, is now reflected in a painted mirror by Lavier.
The title of the exhibition, "L'affaire tournesols", seems to give a double nod, firstly of course to Van Gogh and his famous Sunflowers  (in French, Les Tournesols), but also to L'affaire Tournesol (The Calculus Affair), one of the volumes in the Tintin series by Hergé.
Bice Curiger, exhibition curator
Bertrand Lavier's biography
French artist Bertrand Lavier was born in 1949 at Châtillonsur-Seine. He lives and works in Paris and Aignay-le-Duc (Burgundy).
Lavier created his first works in 1969, when conceptual art was still the prevailing trend. He has since produced numerous series, or chantiers (literally "construction sites"), as he calls them, each taking a different look at art history and at the materials and objects of (post-)industrial society.
His work has been characterized since the 1980s by what he calls the "Van Gogh touch", a phrase that makes us think of "paint", whereas in Lavier's conceptual art it is something that he applies to everyday objects and thereby transforms them into vibrant works of trompe-l'oeil. Lavier paints and "re-presents" an object by painting over and on top of it, and thus right from the start lends the field of his artistic research a range that extends from Marcel Duchamp to Walt Disney.
In 2014 Lavier designed the entrance gate in front of the Fondation Vincent van Gogh Arles. This spectacular work in the public space presents the signature of Vincent, magnified on a giant scale, and at the same time represents that of Lavier himself.
Catalogue published on the occasion of the exhibition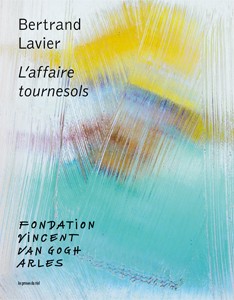 Bertrand Lavier, the tournesols affair

Click here to buy online