Annual loan from the Van Gogh Museum Amsterdam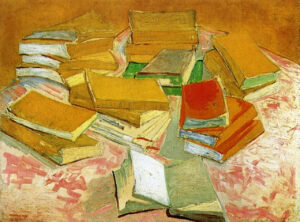 The Fondation has benefited since its opening from an annual loan from the Van Gogh Museum in Amsterdam, initiated between April 2014 and March 2015 with the painting Self-portrait with Pipe and Straw Hat. As from 1 April 2015, this first loan has been renewed with the presentation of Piles of French Novels, a little-known work painted in 1887 in Paris. With its sketched brushwork and free-hand character, this composition reveals the influence of the "Japanese style" that Vincent would later develop further in Arles.
Piles of French Novels testifies to the importance that Vincent attached to books and reading. The volumes appear here like abstract ciphers in bright colours, floating above a surface made of pink brushstrokes, painted with great freedom and an extraordinary vivacity.

Credit: Vincent van Gogh, Piles of French Novels, 1887

Oil on canvas, 54.4 x 73.6 cm. Van Gogh Museum, Amsterdam (Vincent van Gogh Foundation)