BIOGRAPHY
Laura Owens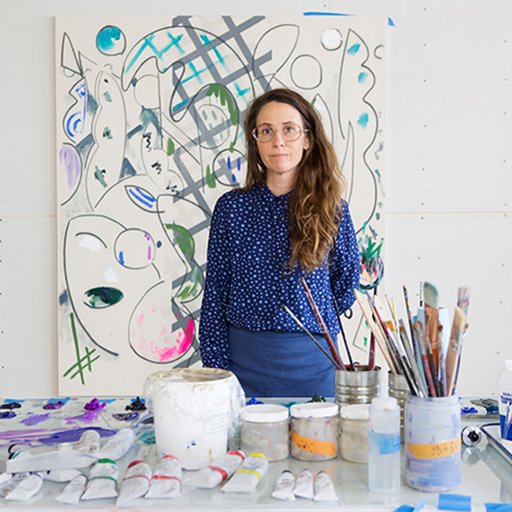 Born in 1970 in Euclid, Ohio, Laura Owens is an American painter based in Los Angeles. A graduate of the Rhode Island School of Design (1992), the Skowhegan School of Painting and Sculpture (1994), and the California Institute of the Arts (1994), she rose to prominence over the course of the 1990s, becoming one of the most acclaimed artists of her generation.
She is known for her varied and experimental approach to the medium of painting, mixing different techniques and incorporating other media, such as digital design, into her creative process. While her work focuses on the practice of painting itself, Owens also addresses the contexts in which her art is displayed. She is thus interested in modes of installation and site-specificity.
In addition to her activity as a painter, Laura Owens has also produced over two hundred unique and editioned artist's books, sometimes accompanied by custom-made tables with hidden drawers and other surprises.
In 2013, together with Wendy Yao, she founded the arts space 356 Mission. For five years 356 Mission hosted exhibitions, discussions and performances that were free and accessible to all.
Works by Laura Owen today form part of prestigious private and public collections, ranging from the Centre Pompidou (Paris) to the Museum of Modern Art (New York) and the Tate (London).
SELECTED SOLO EXHIBITIONS
– « Laura Owens & Vincent van Gogh », Fondation Vincent van Gogh Arles, 2021
– « Laura Owens : Rerun », The Cleveland Museum of Art, Cleveland, 2021
– « Laura Owens », House of Gaga, Mexico, 2020
– « Books and Tables », Matthew Marks Gallery, Los Angeles, 2019
– « Laura Owens », The Whitney Museum of American Art, New York, 2017. L'exposition a ensuite été présentée en 2018 au Dallas Museum of Art et au Museum of Contemporary Art, Los Angeles.
– « Ten Paintings », CCA Wattis Institute for Contemporary Arts, San Francisco, 2016
– « Laura Owens », Sécession, Vienne, 2015
– « Laura Owens », galerie Captain Petzel, Berlin, 2015
– « 12 Paintings by Laura Owens and Ooga Booga #2 », 356 Mission, Los Angeles, 2013
– « Art Unlimited », Art Basel, 2012
– « Pavement Karaoke / Alphabet », galerie Sadie Coles HQ, Londres, 2012
– « Works on Paper », ACME, Los Angeles, 2008
– « Laura Owens », Shiseido Gallery, Tokyo, 2005
SELECTED MONOGRAPHS
– Ten Paintings, New York, Gavin Brown's enterprise, 2018
–Owens, Laura, catalogue de l'exposition, New York, Whitney Museum of American Art, 2017
– Alphabet, New York, Whitney Museum of American Art, 2017
– Untitled Zine, série de onze zines, Los Angeles, Ooga Booga, 2015-2017
– Isabel Venero (dir.), Laura Owens, New York, Skira Rizzoli, 2015
– Twelve Paintings, Los Angeles, Ooga Booga, 2014
– Clocks, New York, Karma, 2012
– Stefan Gronert (dir.), Laura Owens, catalogue de l'exposition, Bonn / Bielefeld / Leipzig / Berlin, Kunstmuseum Bonn / Kerber Verlag, 2011
– Beatrix Ruf (dir.), Laura Owens, catalogue de l'exposition, Zurich, Kunsthalle Zürich, 2006
– Laura Owens, catalogue de l'exposition, Tokyo, Shiseido Gallery, 2005
– Paul Schimmel (dir.), Laura Owens, catalogue de l'exposition, Los Angeles, Museum of Contemporary Art, 2003
Pour la liste complète des expositions et des publications de Laura Owens, voir sur son site internet : www.owenslaura.com