Event | Concert
Fri 28 Apr 2017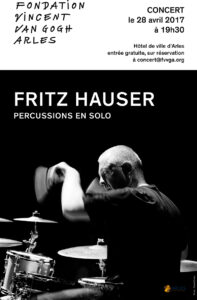 This spring Swiss composer and musician Fritz Hauser will be playing his fifth concert in Arles.
On the evening of 28 April, Fritz Hauser will be giving a concert of solo percussion inside the 17th-century shallow-vaulted gallery of the Hôtel de Ville in Arles. In incorporating the singular acoustics of this unique venue into his performance, Hauser will be pursuing a musical practice whereby he composes with the reverberation times specific to the space in which he is playing. As an enthusiastic mixer of genres, Hauser understands percussion as an activity that inscribes itself more broadly within the spheres of the physical gesture, space, light, theatre, dance and architecture.
During his visit Hauser will be accompanied by the writer Guillaume Belhomme, with whom he is currently preparing a publication comprising a CD and a text, to be issued under the Lenka lente label. Together they will document the mural and sound piece Die Treppe im Regen / L'Escalier sous la pluie ("The stairs in the rain"), situated in the stairwell of the Fondation Vincent van Gogh Arles and commissioned from Hauser in April 2013 as part of the museum's inauguration. The CD will be the fruit of a remix of acoustic elements of this installation.
Fritz Hauser (b. 1953 in Basel, Switzerland) has been contributing to the evolution of percussion in contemporary music for over 30 years. He made his first recording as a percussion soloist in the atrium of the famous Martin-Gropius-Bau building in Berlin. Hauser composes for percussion soloists and ensembles and creates sound installations, radiophonic works and film music. His previous concerts in Arles were held on the terrace of the Fondation Vincent van Gogh Arles, at the Musée Réattu (a former Grand Priory) and in the church of Saint-Honorat.
// Hôtel de Ville, Arles, entrance from Place de la Mairie