Event
Sat 22 Apr – Sun 23 Apr 2017
WEEKEND ARLES CONTEMPORAIN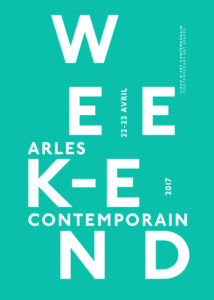 For the fifth consecutive year, the Arles contemporain network invites the public to follow, over one weekend, a contemporary art trail through the historical centre of the city.
This year 17 contemporary art spaces will be welcoming visitors to their current exhibitions and displays.
Arles contemporain is supported by the City of Arles and thanks in particular Cultur'Com.
Discover the program here (in French)
List of the members of the Arles contemporain network:
ANNE CLERGUE GALERIE // ASSOCIATION DU MÉJAN // L'ATELIER DU MIDI // CHÂTEAU DE TARASCON – CENTRE D'ART RENÉ D'ANJOU // COLLECTIF E3 // LE CORRIDOR // ÉCOLE NATIONALE SUPÉRIEURE DE LA PHOTOGRAPHIE / GALERIE ARENA // ESPACE POUR L'ART // FLAIR GALERIE // FONDATION VINCENT VAN GOGH ARLES // GALERIE HUIT // GALERIE JOSEPH ANTONIN // GALERIE OMNIUS // GALERIE NOMADE // GALERIE VOIES OFF // MUSÉE DE LA CAMARGUE // MUSÉE RÉATTU