Fri 12 Jun – 20 Sep 2015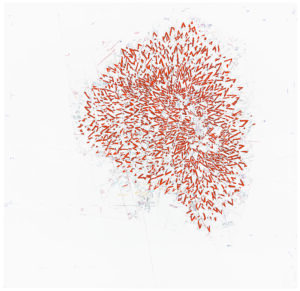 Roni Horn is one of the most important artists of today. In Arles she is presenting large-format works on paper and photographs alongside three new glass sculptures that fill the gallery space. Glass is experienced in her powerful cylindrical sculptures as a fascinatingly translucent volume, as a block of matter that one moment ago was liquid and is now solid. These sculptures reveal to our gaze an inner life infused with light and a subtle play of colour.
Drawing is the basis for Roni Horn's artistic activities. In her large works on paper and photographs, we see the traces and interfaces of a structure determining the image. They are the result of Horn's cutting up and then reassembling of drawn forms and thick loops of pigment on paper, or of photographic figures such as the series of white, blurred clown faces with eerie, luminous red mouths. A shimmering optical play, surprisingly rich in suggestion and at times unsettling, is thereby kindled on the pictorial surface in a staccato rhythm of image formation.
Roni Horn's art always revolves, too, around language, poetry and literature. She thereby often works with writers, such as Hélène Cixous and Anne Carson. In Arles Roni Horn is showing her latest series of drawings, Hack Wit , in which she cuts up English idiomatic expressions in order to make, from two familiar figures of speech, one that is strange and new. Letters and words are scraps that join together in the resulting expression in wild poetry, dancing between meaning and absurdity, recognition and virgin territory. Thus the title of the exhibition, "Butterfly to Oblivion", goes back to the mutual assimilation of "A butterfly broken on the wheel" and "Consign to oblivion".
Exhibition curator: Bice Curiger
Roni Horn's biography
Born in 1955 in New York, Roni Horn graduated from Rhode Island School of Design in 1975 and from Yale University in 1978 with a masters in sculpture. Over the years her mostly solitary experiences in the more remote landscapes of Iceland have become an important influence in her life and work. Horn's earliest works are conceptually based on sculpture. Literature has also been a strong influence, something especially evident in her sculptures, which are often paired, as are her photographs and drawings.
Since the early 1980s Horn has also worked in photography, books and drawing. Her photographic portraits have taken the form of large installations using sequenced or grouped images or books.
Horn has received numerous awards, including three NEA Fellowships, a Guggenheim Fellowship (1990), the Alpert Award (1998) and the Joan Miró prize (2013). 
Previous exhibitions (a selection)
• La Caixa, Madrid, 2014
• Fundació Joan Miró, Barcelona, 2014
• Kunsthaus Bregenz, Bregenz, 2010
• Whitney Museum, New York, 2010
• Tate Modern, London, 2009
• Rencontres de la photographie Arles, Fondation Luma & Collection Lambert, 2009
• Centre Pompidou, Paris, 2003
• DIA Center for the Arts, New York, 2001
• Castello di Rivoli, Turin, 2000
• Musée d'Art Moderne de la Ville de Paris, Paris, 1999
• Venice Biennale, 1997
Credits:
If 2, 2011
Powdered pigment, graphite, charcoal, coloured pencil and varnish on paper, 250.8 x 257.8 cm
Courtesy: Colección Júmex, Mexico
Hack Wit—armed to bud, 2014
Watercolour, pen and ink, gum arabic on watercolour paper, cellophane tape, 61.6 x 38.7 cm
Courtesy: the artist and Hauser & Wirth
Catalogue published on the occasion of the exhibition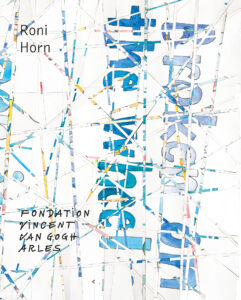 Roni Horn: Butterfly to Oblivion
Click here to buy online