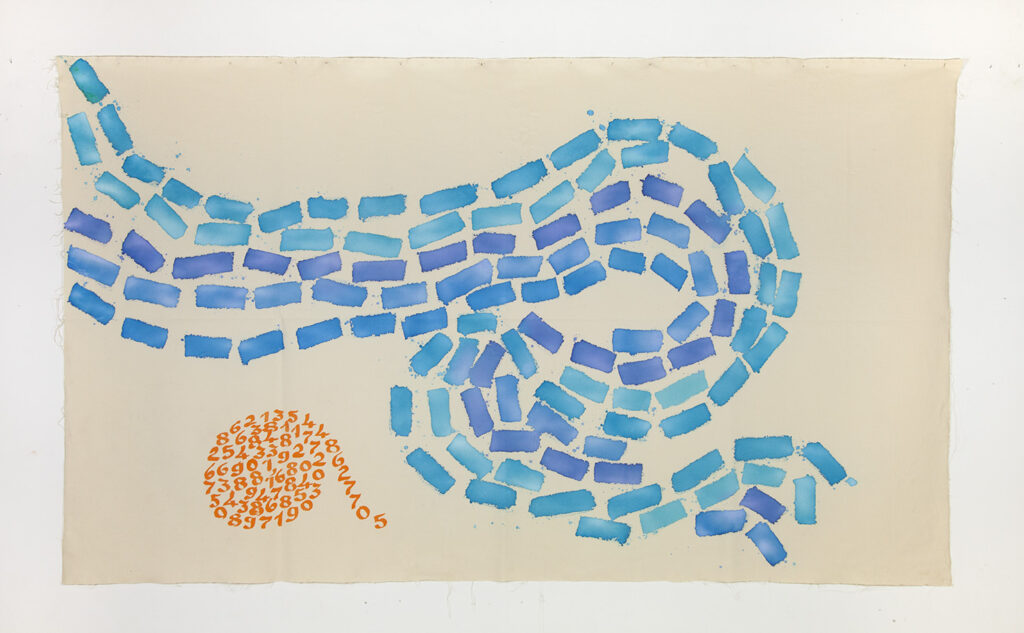 Arabesques or numbers painted in half-tones characterize the formal simplicity and the graceful and warm minimalism of the oeuvre of Giorgio Griffa and translate a certain lyricism that is also found in the artist's poems. Griffa's unprimed, unstretched canvases covered with acrylic painting in pastel shades – "performed by the brush, by my hand, the paint, my concentration etc." – bear witness to the importance he affords to the gesture: he paints – and depicts nothing. 
Giorgio Griffa's solo show at the Fondation presents old and new works, including a selection of his recent, large-format Canone aureo (Golden Ratio) canvases. Among them is Canone aureo 705 (VVG), created in 2015 specially for this exhibition and paying dazzling homage to Vincent van Gogh's Starry Night of 1889.
This ensemble demonstrates the artist's fidelity to his thinking and action since the 1960s.  
Exhibition curator: Bice Curiger
Giorgio Griffa's biography
Born in 1936, Giorgio Griffa is one of the most radical and eloquent artists of the Italian neo-avant-garde. Although situated on the fringe of major contemporary trends, he associated himself at the start of his career with the movements Arte Povera in Italy and Supports/Surfaces in France. Griffa rose to prominence in the late 1960s for his paintings concentrated upon their fundamentals – canvas, brushstroke and colour – and for his capacity to reconcile analysis, poetry and lightness.  Working on raw canvases laid flat on the ground, he applies his pale acrylic paints with brushes and sponges that release "the intelligence of the material". Convinced of the continuum of creation, the artist entrusts his line to the canvas in a gesture without end. 
His process of creation includes innovative references to his predecessors, including Van Gogh, as well as to the divine proportion defined since antiquity by the golden ratio.
Griffa's works are presented in solo and group shows around the world and are held in major collections of contemporary art in Europe and the United States.
Catalogue published on the occasion of the exhibition

Giorgio Griffa

Click here to buy online