Event | Meeting
Sat 21 Nov 2015
19:00 – 00:00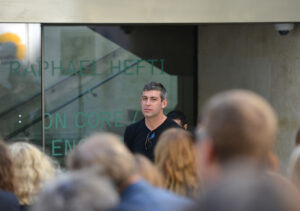 In an open dialogue with Bice Curiger, Julia Marchand, curatorial assistant at the Fondation, and François Quintin, Managing Director of Fondation d'entreprise Galeries Lafayette, Raphael Hefti will be talking about his artistic practice and the works currently on display at the Fondation.
The public will be invited to join in the discussion with questions for the artist.
Born in 1978 in Biel-Bienne, Switzerland, he lives and works in Zurich and London. 
Raphael Hefti rejects the medium specificity of photography and sculpture by placing an emphasis on the process of production. His artistic practice is informed by a deep curiosity to reveal the inner mechanism and structure of an object: industrial and organic. In conversation with specialists, factory employees and scientists, he investigates the fragility of material by interfering with its original composition. This investigation results in large-scale, multimedia installations and performances. In 2011 Hefti received his MFA from the Slade School of Fine Art in London. Recent solo and group exhibitions have been shown at Nottingham Contemporary, Nottingham; CAPC, Bordeaux; White Cube, London; Camden Arts Centre, London; Museum Van Beuningen, Rotterdam; SALTS, Basel; 2012 Liste 16; and Fluxia, Milan. He codirects the London project space Library+.
The discussion will be followed by an aperitif.
© pictures: François Deladerrière, Hervé Hôte