Event | Conference
Wed 5 Feb 2020
19:00 – 20:00
Talk by Camille Richert
There are no lone images…
► Wednesday 5 February at 7pm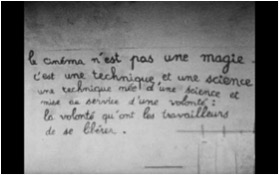 Contemporary remanences of Workers Leaving the Lumière Factory by the Lumière brothers

Works of art, writes art historian Hans Belting, produce in us effects of remanence. Every mental image that haunts us and returns to us corresponds to an object-image, which issues from a stock of images common to the spectators of an era.1 This remanence seems to exist right up to contemporary art works addressing the theme of work. In writing a history of their various motifs, we notice the presence of older images that tinge the collective unconscious of art. In this respect, Workers Leaving the Lumière Factory, filmed by the Lumière brothers in 1895, is one of those remanent images that invigorate contemporary art. There are thus no lone images, according to Belting.
Looking at several works produced between the 1960s and 2000 and treating the theme of "employees exiting the factory", if not actually re-playing it, we shall reflect on the reasons behind the recycling of this motif, which stands right at the start of the history of the moving image. What utility does this motif, which dates from the end of the nineteenth century and the second wave of industrialisation, have in the visual economy of contemporary art, and in the productive economy since the mid-1970s and the end of France's three post-war decades of massive economic growth?
Hans Belting, Pour une anthropologie des images, Paris, Gallimard, 2004,
transl. Jean-Bernard Torrent, p. 31 (An Anthropology of Images, transl. by Thomas Dunlap, Princeton University Press)
Still from the film Classe de lutte, 1969. The Medvedkine Group, Besançon. 16mm film, black and white, sound, 40 minutes, 1:09
Biography of the speaker
Camille Richert graduated in contemporary history from the École normale supérieure in Lyon (2013). Her first research project within the sphere of social history looked at women workers in the inter-war years. Following a period at the École du Louvre, in 2016 she embarked on a doctoral thesis under the supervision of Laurence Bertrand-Dorléac at Sciences Po in Paris, where she teaches history at the Collège universitaire.
Her research focuses on representations of work in art since 1968. In the vein of a social history of art, her work connects art history to history, anthropology and sociology, in order to weave a visual history of gestures and emotions related to work, from the decline of Western political ideologies to the present day.
Camille Richert has also worked as an editor at Lafayette Anticipations – Fondation d'entreprise Galeries Lafayette (2014–2018), where she was in charge of publishing the institution's first books, and where she also coordinated the ReSource project, a tool for documenting contemporary art production. As an art critic, she regularly collaborates with various public and private institutions as well as magazines.