11 Oct 2015 – 17 Jan 2016

The practice of the young Swiss artist Raphael Hefti (b. 1978) has its point of departure in the search for the still unrecognized potential of materials and industrial processes; the – amplified and aesthetic – imperfection of a sheet of metal or pane of glass marks its point of arrival. 
The artist intervenes not simply in technical processes, but equally in the manufacturing protocols of companies making industrial materials, whose production facilities become the laboratory for his observations. Just as his studios in Zurich and London operate in concert, so Raphael Hefti articulates his thinking and pursues his interventions via a collaborative system. After in-depth discussions with the technicians and engineers concerned, Hefti persuades these latter to push a technical procedure to the liminal point at which a transformation takes place at the heart of the material or upon its surface.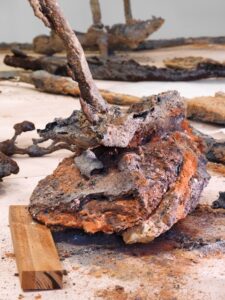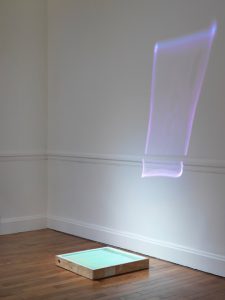 Among the discoveries that the artist is exhibiting on the second floor of the Fondation Vincent van Gogh Arles, the installation Various threaded poles of determinate length potentially altering their determinacy (2015) – a forest of tubular structures made of steel, copper, titanium and aluminium, 35 mm in diameter – militates against the popular belief that metals are inert materials. Heated electrically to various extremely high temperatures at different points along their length, the surfaces of the metal poles change colour and assume a range of iridescent hues. In a transformation of a different sort, anti-reflective museum glass has given birth to the panes of dichroic glass composing The Violet Blue Green Yellow Orange Red House (2014), the installation crowning the Fondation's glazed extension. 
Given that the results of Hefti's artistic experimentation are partly beyond control, it is all the more extraordinary to discover the aesthetic qualities and potent effects of these works, which might be said to play with the architectural constraints of the Fondation building. While the metallic poles of variable lengths, positioned between floor and ceiling, infuse the space with tension, the photogram Lycopodium (2015) – obtained via the combustion of flammable spores on the photosensitive surface of the photographic paper – inserts itself harmoniously into the oblong gallery space for which it has been specially created.
Credit:
Raphael Hefti, The Violet Blue Green Yellow Orange Red House, 2014
Photograph: Stefan Altenburger
Catalogue published on the occasion of the exhibition 
Raphael Hefti : On Core / Encore
Click here to buy online