Fri 12 Jun – 20 Sep 2015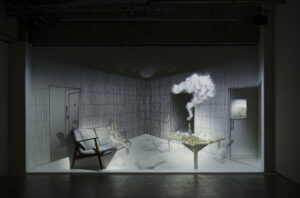 The work of the artist Tabaimo, born in 1975 in Hyogo, Japan, demonstrates the fluidity of the relationships between the practice of drawing and the animation film, between Japanese woodcut prints of the Edo period and popular television of the 1970s, while also incorporating other references specific to the cultural history of Japan.
The young Japanese artist not only integrates the history of animation drawing into her art, but at the same time claims allegiance to the famous painter, printmaker and draughtsman Katsushika Hokusai (1760–1849), the distinctive style of whose woodcuts likewise influenced Van Gogh. Via the subtle alchemy of colour and line that potently infuses her animation film aitaisei-josei , created in 2015, Tabaimo breathes a presence and a movement into a nocturnal scene that has become the setting for exalted passions and surreal visions.
The film intersects the stories of two pairs of lovers: Ohatsu and Tokubei from The Love Suicides at Sonezaki (Jap. Sonezaki Shinju), an 18th-century bunraku  play for the puppet theatre written by Monzaemon Chikamatsu, and Miho and Yuichi, characters in the 2007 novel Villain (Jap. Akunin) by Shuichi Yoshida. The opening scene of the film shows a table and chair respectively personifying the beautiful courtesan Ohatsu and her lover Tokubei. They form a subtle contrast with Miho, whose spectral apparition sets off a series of strange activities inside the apartment. The world of inanimate objects becomes the receptacle of a feminine and sensitive look at the tragic destiny of two women in love.
The artist accompanies her installation with a series of drawings that are situated halfway between botanical illustrations and studies of human anatomy.
Exhibition curator: Bice Curiger
Tabaimo's biography
Born in 1975 in Hyogo, Japan, Tabaimo lives and works in Nagano. She studied Japanese painting at Kyoto University of Art and Design, graduating in 1999. In 2003 she moved to London to pursue her studies in graphic design and to work for the Jonathan Barnbrook agency. After her stay in Britain, where she was also able to discover other foreign cultures, she devoted herself exclusively to her work as an artist. In 2005 she returned to Japan, where she has lived ever since.
In 2011 Tabaimo represented Japan at the Venice Biennale, where she showed her video installation teleco-soup . Her works have entered the collections of leading institutions such as the Fondation Cartier pour l'Art Contemporain (Paris), The Japan Foundation (Tokyo) and the Museum of Contemporary Art (Los Angeles).
Previous exhibitions (a selection)
• Museum Rietberg, Zurich, 2012
• Singapore Art Museum, Singapore, 2012
• Venice Biennale, 2011
• Philadelphia Museum of Art, Philadelphia, 2010
• Moderna Museet, Stockholm, 2009
• Gallery Koyanagi, Tokyo, 2008
• Fondation Cartier pour l'Art contemporain, Paris, 2006
• Contemporary Arts Museum, Houston, 2004
• Deutsches Filmmuseum, Frankfurt, 2000
Credit:
Tabaimo, aitaisei-josei, 2015
Video installation,  5 min 33 sec loop
© Tabaimo/Courtesy: Gallery Koyanagi
Photograph: Kazuto Kakurai